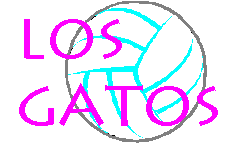 LOS GATOS BOYS' VOLLEYBALL

1997 CIF Champions!* Bracket
*Down here in Southern California, Southern Section champions are referred to as "CIF" champions. So why not CCS?
1997 BVAL Champions!
After I graduated the LGHS VB pages have moved under the wing of Coach Tom Jack, who has been slacking on his duties a little. His pages are here.
1996 WCAL Champions!
2 Junior Olympic All-Americans
Brad Griffith (Nike Griffin) 3rd Team 18-Under
Keith Busam (Los Angeles Athletic Club) 1st Team 16-Under
5 Players on All-League Team
1996 was the first year for the varsity program. We competed in the West Catholic Athletic League. For 1997 we moved to the Blossom Valley Athletic League, and participated in the inagural CCS Championships. Read my slightly biased games notes.

The story of how we got a varsity team at LGHS.

We are so good we get our own directory on Volleyball World Wide, well that and our coach runs the site.
---
26 February, 1996.